Jura Z6 Refurbished
30 day return guarantee
A world first: P.E.P.® from JURA
Pulse Extraction Process produces the perfect espresso
For the Pulse Extraction Process (P.E.P.®), innovation leader JURA took its inspiration from the world's best baristas. The result is a revolutionary technology that optimizes the extraction time, allowing even short specialty coffees like ristretto and espresso to be prepared with an intensity and breadth of aromas like never before.
The purest quality espresso
JURA has perfected the complete brewing process for ristretto and espresso. That's why the Z6 is able to prepare coffee to the same standard as the best coffee bars. The pulse extraction process (P.E.P.®) allows the whole bouquet of aromas to blossom.
Result: possibly the best espresso of all time – at the touch of a button.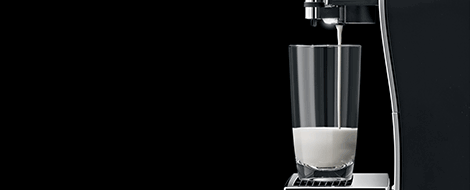 The perfect milk and milk foam
The innovative nozzle technology prepares fine, compact and very tempting milk foam. The machine switches from milk to milk foam fully automatically. Thanks to a world first, the adjustable milk and milk foam temperature, it is possible to create sophisticated trend specialities to professional barista standard – at just the touch of a button.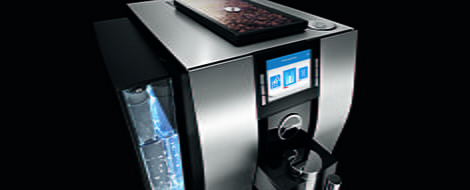 Very easy to use
JURA coffee machines are self-explanatory, easy and intuitive to use. To name just one example, the filter cartridge and coffee machine are wirelessly linked by RFID technology. The machine automatically recognises the filter and selects the appropriate settings.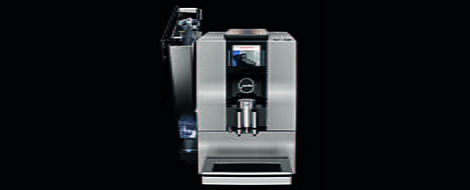 Refined functionality
The Z6 packs incredible performance into compact dimensions. All the control elements are conveniently accessible on the front. The removal of the water tank and refilling of the bean container also take place conveniently from the front. The user can rename the different speciality coffees and position them on the start screen. There are no limits to the imagination. Maintenance is just as easy as preparing a coffee: one touch of a button is all that's needed.
 1 Year MFG. Warranty
Coffee specialities

Coffee specialties

1 latte macchiato
1 Flat White
1 macchiato
1 cappuccino
2 coffees
1 coffee
2 espressi
1 espresso
2 ristretti
1 ristretto
Milk
Milk foam

Hot water function

3 levels

Additional preground coffee powder

Yes

No. of individually programmable specialities

12
Technologies

| | |
| --- | --- |
| Pulse Extraction Process (P.E.P.®) | Yes |
| Variable brewing chamber | 5 - 16 g |
| Intelligent Pre-Brew Aroma System (I.P.B.A.S.©) | Yes |
| I.W.S.® with filter cartridge | CLEARYL Smart |
| Grinder type | AromaG3 grinder |
| Number of grinders | 1 |
| Active bean monitoring | Yes |
| Powder recognition for additional ground coffee variety | Yes |
| Thermoblock heating system | 1 |
| Intelligent preheating | Yes |
| High-performance pump, 15 bar | 15 bar |
| JURA fine foam technology | Yes |
| Milk or milk foam preparation | Yes |
| Monitored drip tray | Yes |
Settings and programming options

| | |
| --- | --- |
| Programmable amount of water | Yes |
| Amount of water can be adjusted for each preparation | Yes |
| Programmable coffee strength in levels | 10 |
| Coffee strength can be adjusted for each preparation | Yes |
| Milk temperature can be programmed in levels | 10 |
| Milk foam temperature can be programmed in levels | 10 |
| Hot water temperature can be programmed in levels | 3 |
| Brewing temperature can be programmed in levels | 3 |
| Save, copy and personalise products | Yes |
Operations

| | |
| --- | --- |
| Display | TFT color display |
| Rotary Switch | Yes |
Sustainability

| | |
| --- | --- |
| Energy Save Mode (E.S.M.©) | Yes |
| Programmable switch-off time | Yes |
| Power switch | Zero-Energy Switch |
Perfect maintenance at the touch of a button

| | |
| --- | --- |
| Filter cartridge | CLEARYL Smart |
| Integrated rinsing, cleaning and descaling programme | Yes |
| Integrated milk system cleaning programme | Yes |
| Automatic milk rinse | Yes |
| Maintenance status display | Yes |
| Adjustable water hardness | Yes |
| JURA hygiene: TÜV-certified | Yes |
Spouts

| | |
| --- | --- |
| Height-adjustable coffee spout | 3.2 - 6 inches |
| Width-adjustable coffee spout | 0.8 - 2 inches |
| Height-adjustable cappuccino spout | 3.2 - 6 inches |
| Height-adjustable dual spout | 3.2 - 6 inches |
| Hot water spout | Yes |
| Height-adjustable hot water spout | 3.2 - 6 inches |
Design and materials

| | |
| --- | --- |
| Amber cup illumination | Yes |
| White cup illumination | Yes |
| Water tank illumination blue | Yes |
| Sound design | Yes |
| Powder chute for ground coffee | Yes |
In figures

| | |
| --- | --- |
| Water tank capacity | 81 oz |
| Numbers of bean containers | 1 |
| Bean container with aroma preservation cover | Yes |
| Capacity per bean container | 9.9 oz |
| Coffee grounds container (max. servings) | 20 |
| Cable length | 3.6 feet |
| Voltage | 120 alternating current |
| Ampacity | 10 amp |
| Frequency | 60 hz |
| Power | 1450 Watt |
| Stand-by power | 0 Watt |
| Energy consumption | 16 watt-hour |
| Energy consumption with E.S.M.© | 6 watt-hour |
| Weight | 25.4 lb |
| Width | 12.6 inches |
| Height | 14.8 inches |
| Depth | 17.7 inches |
| Energy efficiency CH | 46 kw per h. |
| Conformity mark | |
| Article Number | 15093 |